Profile
Linda Robertson MA (RCA) studied silversmithing at the Glasgow School of Art and gained a first class honours degree which enabled her to go on to study at the Royal College of Art where she graduated in 2000 with an MA in silversmithing.
Her work is mainly in sheet metal using restrained geometric forms and is continually inspired by the architectural landscape.
She has a studio in London and works mainly to commission, dealing with individual clients or City livery companies for their silver collections.
Linda also teaches at Central St. Martins and Richmond College.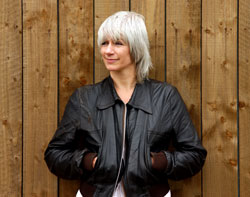 I originally come from the Isle of Bute, a small island off the west coast of Scotland, where I lived for 25 years